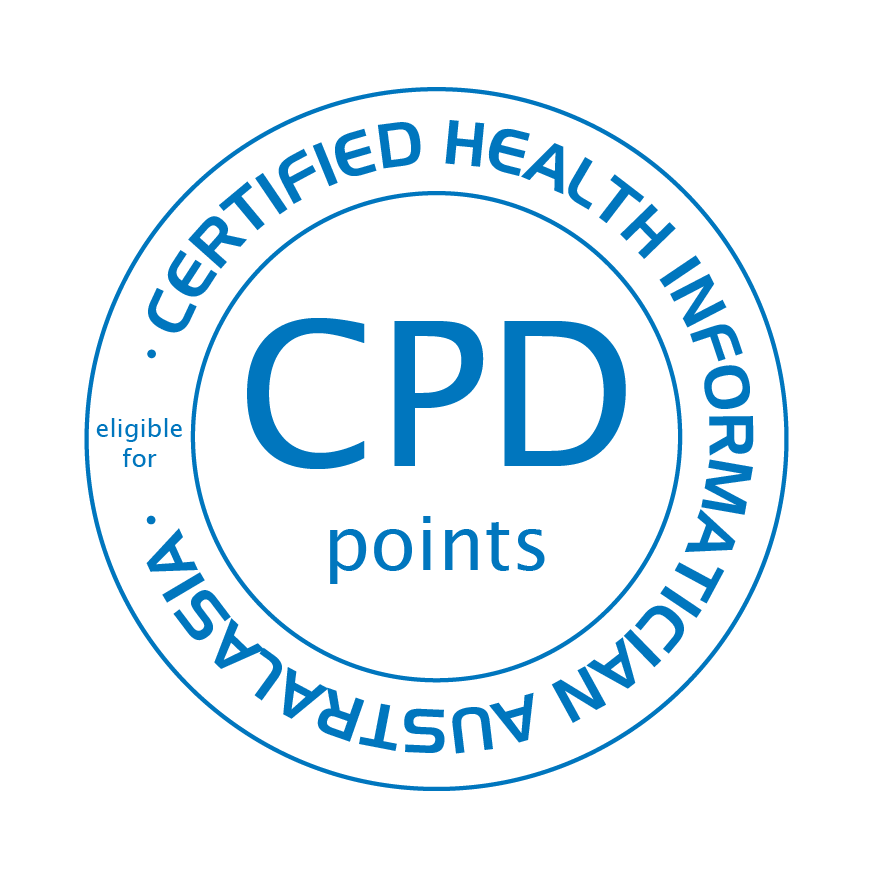 In order to maintain your CHIA credential, you need to undertake learning development activities that provide updated training and skills to allow continued competence in healthcare informatics by earning the required number of continuing professional development (CPD) points in any of the CHIA content domains.
There are many different activities you can complete and participate in, that will earn you CPD points. Some of the events and options have been listed below, for more information please refer to the Recertification Page.
Endorsed courses
By completing these endorsed courses you can earn points towards your CHIA recertification. Click on the tiles below to find out more information and details on how to enrol. Note these courses are provided by Other Organisations when completing your CPD journal. If you would like to have your course endorsed by CHIA, apply today.
SNOMED CT Foundation Course Online course 11 CPD points Self-directed, enrol any time
SNOMED CT Implementation Course Short course – 6 Months 50 CPD points Intake January and July (annually)
SNOMED CT Authoring Level 1 Course Short course – 5 months 60 CPD points Intake March and September (annually)
Flinders University 2021 Short Course Health Informatics Short course – 4 days 20 CPD points 12 – 16 July 2021
Endorsed events by AIDH
Below are recurring events and conferences where you can earn points towards your CHIA CPD by attending. To find out the dates of the upcoming conferences, either click on the icons below or go to the AIDH events calendar. If you would like to have your conference endorsed by CHIA, apply today.

Digital Health Institute Summit National conference 1 CPD point per hour of viewed content Up to 65 contact hours available 18 -19 October 2021 (annually)
HealthData21 2 day conference 14 CPD points for 2 days 27 – 28 May 2021 (annually)