Previous CPD events
Past events that could have earned you CHIA CPD points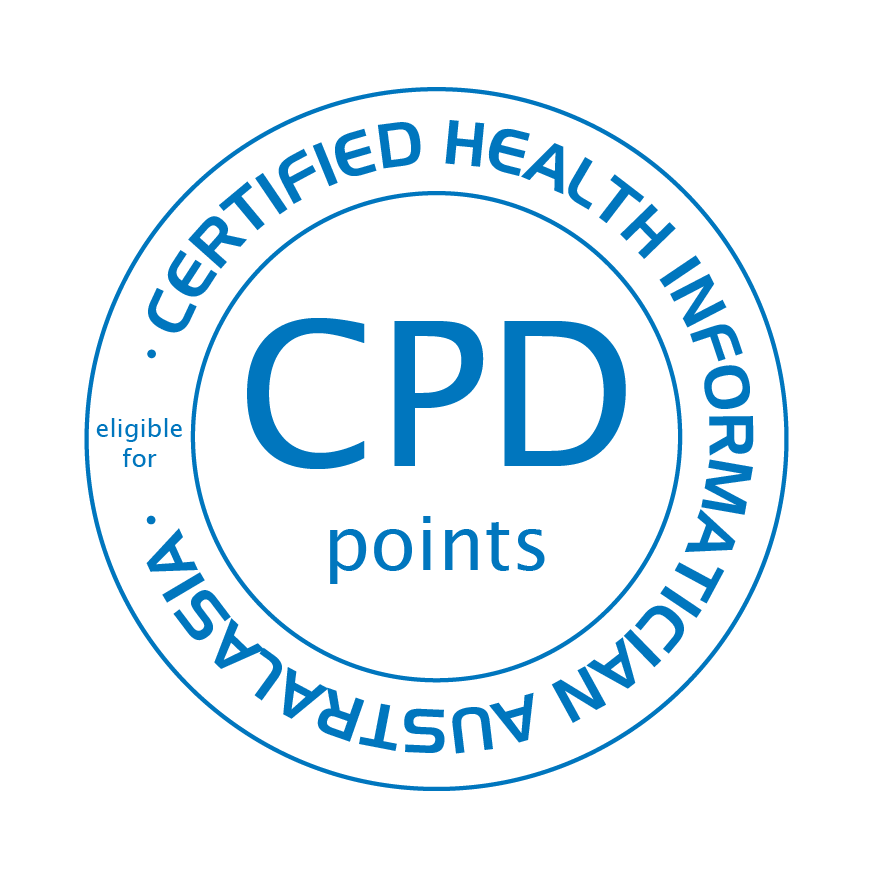 There are a number of ways to earn continuing professional development (CPD) points towards your CHIA recertification. Below are HISA/AIDH delivered events that have already occurred, attendance of which will have earned you CPD points towards your CHIA recertification.
AIDH endorsed events
Counts towards AIDH activities for CPD Journal reporting
Other endorsed events
Counts towards other provider activities for CPD Journal reporting
Queensland Digital Academy – Metro North HS
Digital Grand Round

ONLINE SERIES
Journal Club Series

WEBINARS
Assessment of oral anticoagulant adverse drug events before and after implementation of a real-time clinical surveillance tool
10 November 2021 1 PT
Is AI ground truth really 'true'? The dangers of training and evaluating AI tools based on experts' know-what
13 October 2021 1 PT
Reliable Detection of Atrial Fibrillation with a Medical Wearable during Inpatient Conditions
14 July 2021 1 PT
Assuring the Quality of Next-Generation Sequencing in Clinical Microbiology and Public Health Laboratories
9 June 2021 1 PT
The interface of genomic information with the electronic health record
12 May 2021 1 PT
EMPOWER – Unlocking the clinical value of Queensland Health's EMR dataset
14 April 2021 1 PT
Use, Perceived Usability, and Barriers to Implementation of a Patient Safety Dashboard
10 March 2021 1 PT
To recover faster from Covid-19, open up
10 February 2021 1 PT
Centre for Digital Transformation of Health
Flinders University and others
Do you deliver events in the digital health space?
The CHIA CPD Endorsement program offers external providers recognition and endorsement of your CPD activity such as a conference, workshop, seminar, webinar or podcast.